TPU: An Environmental Friendly Alternative to PVC
Feb 23,2022 | K Yam
People commonly refer plastic products, especially garments or bags, with a generic term, PVC (Poly Vinyl Chloride).  This is not entirely correct because there are in fact various plastic types.   In the toy industry, PVC was gradually phased out in US and Europe since 2008 because it is said that PVC releases toxic substances.  For our company, we stopped using PVC on all toy products since 2008.   Gradually, this requirement was extended to other categories including bags and gift items by our customers. 
The question is, if we don't use PVC, what are the alternatives? My answer is TPU, which is a more environment friendly alternative to PVC.  In this article, I will discuss how we apply TPU on textile items such as bags and its respective benefits that can be easily understood by non-experts.      
What is TPU?
In short, thermoplastic polyurethane (TPU), a thermoplastic elastomer that consists of liner segmented block copolymers, which composed of hard and soft segments, was discovered in 1937 by Otto Bayer and his coworkers at laboratories of I.G. Farben in Leverkusen, Germany.   
TPU is widely applied in medical devices, sporting goods, footwear, extruded film sheets, inflatable rafts, textile as well as automotive industries.   It is also a very important ingredients for 3D printing!  In textile industry, TPU is a common coating material applied on water-proof fabrics.  Apart from coating, TPU fabrics is becoming more popular in making clothes and bags. 
Unique properties of TPU
TPU is recyclable (yes, not all plastics are recyclable)

High durability – good load bearing capacity

High elasticity – Good tensile strength

High abrasion and scratch resistance

Breathable (that's why it is a popular material for sporting goods!)

Good transparency

Good oil and grease resistance

Good aesthetic value

Odourless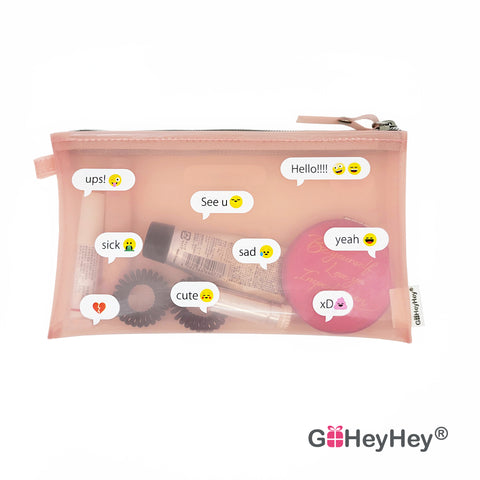 Why do I like using TPU to make bags and gifts?
TPU is recyclable
Many consumers cannot distinguish various types of plastic and have a common concept that most plastics can be recycled.  In fact, this is wrong.  PVC, a very popular and low-cost plastics that is prevalently used in bags, packaging and textile coating, cannot be easily recycled.  However, it is still a relatively popular material because of its low price.    In fact, many low-priced shopping bags, and textile goods are made with PVC, which can be detrimental to the environment because of low recyclability and possible release of harmful substances.   
Good durability
TPU is very durable.  It has very good loading bear capacity.   Even if I use thin TPU sheets such as 0.5mm thickness, the bag can sustain heavy weight.  The bags turn out to be very handy because of its light weight and yet heavy-duty properties.
TPU has high abrasion and scratch resistance, too!  It doesn't deform easily under temperature change compared to PVC.  Because of that, its deformation rate is very low.  Thus, TPU is very ideal for products that require durability and a lasting appearance.   As such, many global brands of bags and sporting goods use a large amount of TPU in their products.   
High aesthetic value
TPU has very high-quality surface finish.  This is particularly obvious when we visually compared it with other vinyl such as PVC or PU.  Products made with TPU are visually more upscale than the other plastics.  Of course, the price of TPU is 30-40% higher than PVC.   High cost is always a major obstacle that hinders designers/sellers from using such nice material.
TPU can be clear, transparent and solid color.  Some are foiled, matt and glossy finished, too.    
Easy to clean
Bags or shoes made with TPU are very easy to clean because this material is fundamentally oil and grease resistance.  One just needs to wipe clean your TPU bag or shoes with a damp cloth to make them look new again!  This is super easy and convenience.
No Odor
Some people might notice that many plastic bags have strong smells, but this would not happen on TPU materials, which is literally odorless while plastics like PVC sometimes has "plastic" smell, which reduces the overall consumer impressions on luxury, hygiene and quality of a product.  TPU never has this issue. 
Good value
Although TPU is way more expensive than PVC, it's absolutely a better option because of its longevity.  Products made of PVC do not have long lifetime compared to those made with TPU.  In short, TPU products can be used for a long time.  PVC products are cheap, but they also have issues of deformation, fracture, and color change over time. 
In product design and development, it is often a big challenge to balance product quality, profitability, and aesthetics.  For modern businesses, it is imperative to embrace eco-friendly concept in design as well as manufacturing process.  Although sometimes we cannot fully use biodegradable or natural materials, we should strive to use more recyclable materials.   So, while looking to be fashionable and stylish, let's also not forget about preserving our environment.
abvpkg. (2018, August 27). TPU Vs. PVC Vinyl Bags. Retrieved from https://www.vinylbags.com/tpu-vs-pvc-vinyl-bags/
Complete Guide on Thermoplastic Polyurethanes (TPU). (n.d.). Retrieved from https://omnexus.specialchem.com/selection-guide/thermoplastic-polyurethanes-tpu
The Most Common Uses of Waterproof TPU Fabric-Is It Right For Your Product? (2018, April 30). Retrieved from https://erez-therm.com/most-common-uses-of-waterproof-tpu-fabric/
Comment