Making Eco-friendly Activated Bamboo Charcoal Fun to Use
Nov 08,2021 | K Yam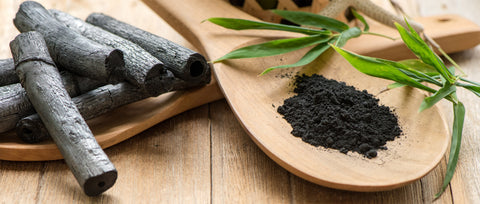 About fifteen years ago, air fresheners or scented products were very popular.  I had plenty of related projects of these products.   During that time, ingredients were mainly scented pellets, dried lavender buds or dried flower scented with fragrance.   As the main function of air fresheners is to eliminate odor, most air fresheners achieve this purpose via use of fragrance oil or similar chemicals.  Nowadays, thanks to people awareness to health and eco-friendliness, we are more predisposed to using natural ingredients.  Particularly, bamboo charcoal is the best sustainable material for odor elimination and moisture absorption. 
Bamboo charcoal has a wide variety of application including water purification, odor adsorption and even as component of skin care and medicinal products.  In this article, I only focus on discussing odor and moisture adsorption, how to make such wonderful sustainable material more fun to use. 
What is bamboo charcoal?
 Bamboo charcoal is charcoal derived from Moso bamboo plant, which is mainly grow in China.  It should be made from bamboo plants of five years old or more, which then undergoes a heating process at 800-12000C (Hambali, et al., 2016).  It has been used in Asia, especially China, Japan and Korea, as filtration medium or component of medicines for centuries.  Until recently, the benefits and usage of bamboo charcoal gradually get more attention from the West.  Nowadays, people also apply it to skin care products!
As Moso bamboo grows, millions of tiny holes are formed, densifies and matures.  It is these holes that result the amazing adsorbent ability of bamboo charcoal.  The heating treatment (carbonizing process) further increases its adsorption properties.
Natural deodorizer, air purifier and moisture absorber
 We often encounter into situations that need removing unpleasant smells such as in cars, shoe cabinets, bathrooms, etc.   Most people commonly use conventional artificially scented air fresheners.  These products are designed to "mask" bad odors with chemicals, sprays or perfumes.
 Bamboo charcoal, on the other hand, is not scented.  It removes bad odors via adsorbing (not absorb) them, which means charcoal attracts substances to cling to and accumulate on the charcoal surfaces (The Definitive Guid to Bamboo Charcoal, 2021).     
 In addition, the porous structure of bamboo charcoal allows it to adsorb pollutants from the air or water.  It adsorbs ammonia, carbonic oxide, benzopyrene, formaldehyde, etc (Asada, Ishihara, Yamane, Toba, & Yamada, 2002). 
Bamboo charcoal can also be used as a natural dehumidifier.  It adsorbs excessive moisture in the air when humidity level is high and then releases it when humidity level drops.  It is a superb natural dehumidifying solution for mold prevention to clothes, basement, garage or storage area. 
Sustainable, Reusable and biodegradable
Compared to conventional air fresheners, activated bamboo charcoal has longer lifespan because it has can be used more than a year if being taken care properly.  To reuse, re-activate it by putting them under direct sun light for two hours each side every one or two months (What is bamboo charcaol?, 2021).  When discarding, take the bamboo charcoal out from the sachet and then dump them in the soil.  It can biodegrade back to the ecosystem!
 What is available in the market?
 For typical home usage, we wouldn't use black charcoal as is because it darkens household objects.   Hence, most bamboo charcoals are crushed into granules, which are then inserted into fabric pockets to become sachets.   Majority of these sachets and made in rectangle, square and pyramid shapes.  Moreover, materials are usually dark color fabrics such as black, grey and dark green.  Fabrics are usually synthetic like non-woven or polyester with coating such as PU.  This is because these fabrics are good for preventing particles like dust from leaking out to contaminate household objects.   However, most of these fabrics are synthetic and not compostable or biodegradable.
 Another reason of using dark cloth can hide the stains caused by bamboo charcoal during the production process.  After all, inserting bamboo charcoal granules without staining fabric is a challenging task!    
 Although bamboo charcoal itself is biodegradable, most of fabric containers are not.  Most fabrics used to make these sachets are made with synthetic fibers such as non-woven and polyester linen (i.e., imitation linen).  These materials are just like plastics that takes more than 20 years to decompose!
 Additionally, with bamboo charcoal granule inside, it is not easy to sew complicate shapes.  Thus, shapes and colors are limited.  These constraints significantly hinder creative design.  They are functional but lack of decorative value.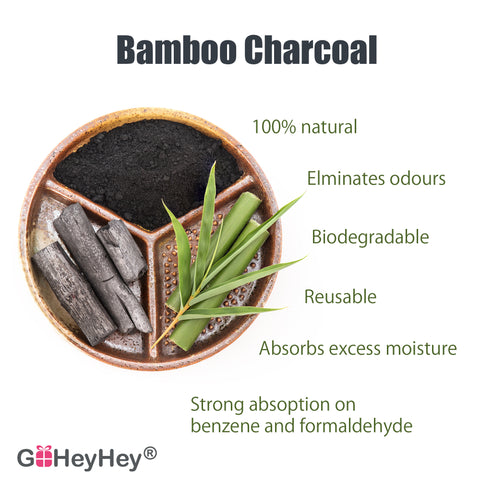 Making bamboo charcoal fun to use
 In the past few months, our team has been discussing how to make this wonderful material more fun to use, more eco-friendly and enhancing its decorative value.   One of our objectives is to make the sachet totally biodegradable (including the fabrics) and yet doesn't leak out particles to contaminate household objects.  Another target is that even after the lifespan, the sachet is also a nice decorative thing rather than discarding it.  This way we can extend the usage time, which can also be a pragmatic way to reduce waste.    
We finally came up with two ideas: (1) Using eco-friendly natural cork fabric to make fossil like dinosaur sachet and (2) exquisite hand-crafted cupcake decorative piece.   What interesting ideas!
When we came up with these exciting ideas, challenges followed.  How can we prevent the particles from leaking?  How do we make sure the sachet exterior clean and intact during and after bamboo charcoal granule insertions?   
The dinosaur theme sachet is intended to be all biodegradable inside-out.  Hence, when bamboo charcoal expires, one can discard it without worrying about biodegradability issue.  This sachet is made of cork fabric as exterior and bamboo charcoal as filling.  It is like a dinosaur fossil which is good at placing anywhere such as cars, sitting room bathroom, bedroom, wardrobe and drawers! 
As for bamboo charcoal cupcake, we used RPET felt (recycled water bottle felt fabric) and cotton canvas as exterior and filled with bamboo charcoal.  Its size is like real cupcakes.  It is authentic, hand-crafted and highly decorative.  Even when the bamboo charcoal expires, it is still a very nice piece that brighten up your home for a long time.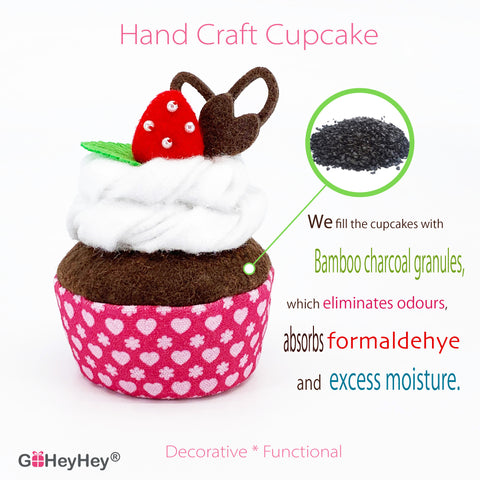 From design perspective, having a sustainable living style doesn't need to sacrifice aesthetics nor costing a lot of money.  We just need some creativity to make little twist to make some differences.  What sustainability and eco-friendly mean to me is preserving our earth via reusing products, prolonging its lifetime and ideally making it biodegradable or compostable. 
See our full collection of bamboo charcoal products:
 References
Hambali, N., Kasjoo, S., Isa, S., Isa, M., Nor, N., Khalid, N., & Ahmad, N. (2016). Adsorption Properties and Potential Applications of Bamboo Charcoal: A Review.
The Definitive Guid to Bamboo Charcoal. (2021, November 1). Retrieved from https://purggo.com/blogs/news/76831559-the-definitive-guide-to-bamboo-charcoal
Asada, T., Ishihara, S., Yamane, T., Toba, A., & Yamada, A. (2002). Science of Bamboo Charcoal: Study on Carbonizing Temperature of Bamboo Charcoal and Removal Capability of Harmful Gases. Journal of Health Science, 473-479.
What is bamboo charcaol? (2021, November 5). Retrieved from www.costco.ca: https://www.costco.ca/wcsstore/CostcoCABCCatalogAssetStore/Attachment/1011348-EN.pdf
Comment